Bird jigsaw puzzles are a wonderful way to bring bird watching into our homes and end up with a lovely treasure to keep when we're done.
Bird watchers and bird lovers alike can enjoy puzzles with a single bird or a scene with lots of birds. My favorites are the garden scenes with lots of brightly colored backyard birds. How about you?
Do you enjoy watching birds, either as a hobby or just out in your own backyard? I sure do! We live just down the street from a wetlands preserve and we get to see so many kinds of birds "in the neighborhood." From Spoonbill Cranes to Painted Buntings, the birds are so beautiful!
Birds are the cheerful, musical little harbingers of Spring, too. I'm always thrilled to see my Cardinal families in my backyard because they live there year round. But it's also fun to see how many other feathered visitors come to my feeders and birdbaths. How about you?
Bird jigsaw puzzles are double the fun for me because I love wildlife and I love jigsaw puzzles. Bird jigsaw puzzles would make perfect gifts for bird lovers and bird watchers for any occasion!
On this page, I've gathered together some fabulous bird jigsaw puzzles. Some are puzzles that I'd like to do myself. I know you'll love these bird jigsaw puzzles, if you love birds as much as I do.
Beautiful Bird Jigsaw Puzzles At Calendars.com
Look what I found for you over at Calendars.com. Are they the sweetest bird puzzles you've ever seen? If you love birds as much as I do, just one of these puzzles won't be enough. Get a couple. I won't tell!
Birds of Summer 550 Piece Puzzle

Meadowlark Morning 1000 Piece Puzzle

Janene Grende 23 Cottage Lane 300 Piece Puzzle

Trumpet Vines and Tree Sparrows 300 Piece Puzzle

Bird Jigsaw Puzzles On Amazon
There are bird puzzles here for both kids and adults. These fun and challenging jigsaw puzzles will keep you busy and entertained for hours. They are great fun for the entire family, or work them alone for some "you" time. Give a bird jigsaw puzzle to bird lovers for any occasion, too!
Ravensburger Time for Lunch – 1000 Piece Puzzle
Garden Birds 500 Piece Puzzle
White Mountain Puzzles Birds of the Backyard – 1000 Piece Jigsaw Puzzle
White Mountain Puzzles Birds of Summer – 550 Piece Jigsaw Puzzle
White Mountain Puzzles Hummingbirds – 1000 Piece Jigsaw Puzzle
State Birds & Flowers – 1000 Pc Puzzle
Bird Jigsaw Puzzles On Zazzle
Bird lovers can't get enough of these beautiful bird puzzles. Work them and frame them, or take them a part and start all over again, so you can enjoy every inch of your favorite, colorful birds! If you love birds, you will enjoy these jigsaw puzzles designed by talented Zazzle artists!
The bird jigsaw puzzles at Zazzle are 110 pieces. These just might be nice gifts for seniors who may have trouble seeing or handling the smaller pieces. They come in a gift box with the picture of the bird on the top of the box.
Alaska Willow Ptarmigan Jigsaw Puzzles

Alabama Yellowhammer Puzzles

Tropical Birds and Flowers Jigsaw Puzzles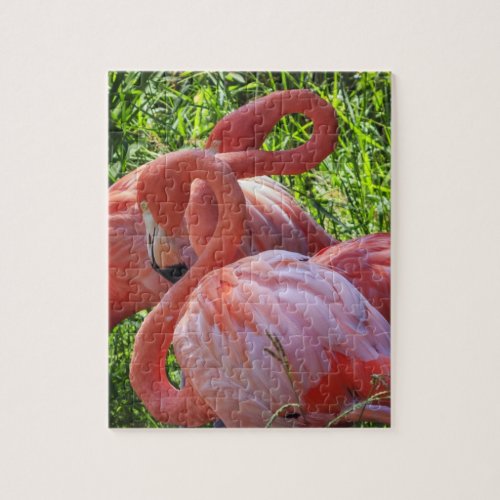 Two Pink Flamigoes Jigsaw Puzzle

Bird Jigsaw Puzzles On eBay