Autumn Jigsaw Puzzles
The beautiful colors of Fall are a perfect match for Autumn Jigsaw Puzzles. Oranges, yellows, and browns work together to challenge your puzzle skills. I think Autumn jigsaw puzzles are some of the more challenging puzzles out there exactly because of those rich, warm Fall colors.
Welcome the Fall Season with one of these eye-catching Autumn jigsaw puzzles and someone you love. Don't for get to grab a pretty Autumn throw blanket to spread over your lap and ward off the chill.
Enjoy a crisp Fall afternoon with good friends, sitting around the table and assembling an Autumn jigsaw puzzle together.
Yes, putting together Autumn jigsaw puzzles is just the thing for a chilly Fall afternoon. Invite some friends over or round up the family, but do make some time to enjoy assembling jigsaw puzzles together.
In fact, jigsaw puzzles are perfect for family nights. Don't forget the hot chocolate!
Then when you're done assembling a gorgeous Autumn jigsaw puzzle, you'll still have a lovely reminder of the hours of fun you had putting the puzzle together. Grab the puzzle glue and save the beautiful puzzle for framing. OR, start it all over again!
Lord Unicorn And His Pumpkin Kingdom Jigsaw Puzzle

Gorgeous Autumn Jigsaw Puzzles
I didn't know RedBubble had jigsaw puzzles!  Did you?  What a treat.  There are five sizes available, too.  What's your favorite – 1000?  1500?
Autumn Hello October Jigsaw Puzzle

Two benches in autumn Jigsaw Puzzle

Autumn forest Jigsaw Puzzle

Autumn maple leaf with heart Jigsaw Puzzle

Lovely Puzzle Master Fall Jigsaw Puzzles
Based in Canada, Puzzle Master has the biggest variety of puzzles of ALL kinds that I've seen anywhere. Here's their gorgeous Autumn jigsaw puzzles. I've got my eye on that First Fall puzzle!
Autumn

Autumn Bouquet

Harvest Time

Autumn Garden

Autumn In An Old Park – Eugene Lushpin

Autumn Retreat

Amazon Has Lots Of Autumn Jigsaw Puzzles
The choice in Autumn jigsaw puzzles is fantastic over at Amazon. Whether you're looking for 500, 1000 or 1500 piece jigsaw puzzles, you won't want to miss these.
Countryside Autumn Jigsaw Puzzle 1000 Puzzle
Charles Wysocki – Olde Buck's County – 1000 Piece Jigsaw Puzzle
Autumn Church Jigsaw Puzzle 550 Piece
White Mountain Puzzles Friends in Autumn – 1000 Piece Jigsaw Puzzle
Bits and Pieces – 500 Piece Jigsaw Puzzle for Adults – Bountiful Meadows Farm
Bits and Pieces – Home Grown – 1000 pc Fall on The Farm Jigsaw by Artist John Sloane
Ravensburger Cozy Retreat 500 Piece Large Format Jigsaw Puzzle for Adults
1000 Piece Puzzles Jigsaw Puzzle for Adults or Kids – Late Autumn Puzzles
Buffalo Games – Days to Remember – Autumn Memories – 500 Piece Jigsaw Puzzle
Autumn Canal Jigsaw Puzzle 1000 Piece
Gobbler Farms 1000 Piece Jigsaw Puzzle (Large Pieces)
Jane Wooster Scott – Autumn's Palette Puzzle – 550 Pieces
Autumn Jigsaw Puzzles On Zazzle
Autumn leaves are the topic of these beautiful autumn jigsaw puzzles from Zazzle. The puzzles come in seven sizes now. That's amazing!  They come with a beautiful gift box with puzzle image printed on lid.
Created by artists from around the globe, these puzzles are unique, and they make wonderful gifts for family and friends. The lovely fall colors make these puzzle enjoyable to work and to look at, too. You'll be challenged and impressed with these great designs.
Vincent Van Gogh Mulberry Tree Fine Art Painting Jigsaw Puzzle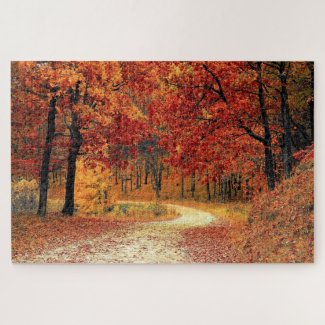 Forest Road – Fall Jigsaw Puzzle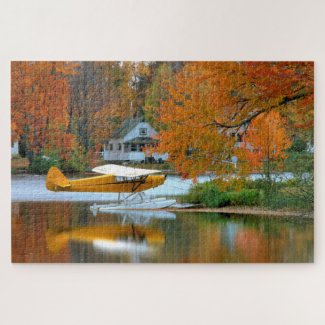 USA, New England, New Hampshire. Float Plane Jigsaw Puzzle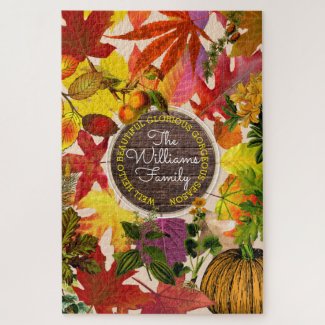 Fall Autumn Leaves Collage Monogram Vintage Wood Jigsaw Puzzle

Beautiful Autumn Puzzles On eBay
eBay is the place to find some glorious Autumn puzzles at bargain prices. If you're as addicted to jigsaw puzzles as I am, you'll want to set up a saved search for your favorite jigsaw puzzle theme. Personally, I think these Fall puzzles are great gift ideas too.